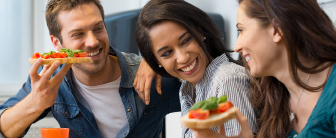 APPROACH
At Carolina Center for Restorative Medicine, we focus on the patient, not the disease.
Our approach is founded on a therapeutic patient-physician relationship that puts the "care" in healthcare. This patient-centric model follows Sir William Osler's wisdom: "It is important to know the disease but even more important to know about the patient that has the disease."
We collect extensive data by means of a detailed history, laboratory tests, imaging and a thorough physical examination, because we believe the old-fashioned "hands on, ears on" physical exam uncovers vital clues about a patient's health.
Using diagnostic data, we collaborate with the patient to design a strategic, systematic health plan that goes beyond treating symptoms.
Our functional medicine model digs under the surface of the visible symptoms to determine the root causes of sickness and disease.
Our treatment plans address the mind, body and spirit so that health can be restored, not just managed.
We believe he who has health has hope, and he who has hope has everything.
Conditions Treated
Alzheimer's Disease
Anti-aging Medicine
Attention Deficit and Hyperactivity Disorder
Autism Spectrum Disorder
Autoimmune Disorders
Brain Dysfunction and Memory Disorders
Children with Special Needs
Chronic Fatigue Syndrome
Chronic Infections
Gut Health
Hormone Imbalances
Insulin Resistance
Lyme disease and Associated Tick-Borne Illnesses
Malnutrition
Metabolic Syndrome
Mold Exposure and Neurotoxin Illness
Metabolic Syndrome
Neurodegenerative Disorders
Preconception Care